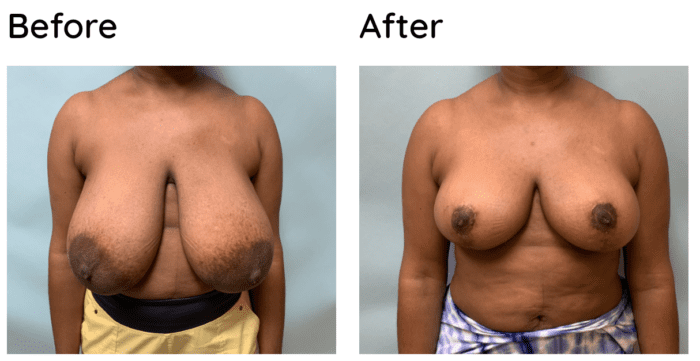 Many patients come to Dr. Schwartz with symptoms of back, neck, and shoulder pain, headaches, arm numbness, and breast groove infections because of their very large breast size. Dr. Schwartz offers these patients breast reduction surgery which reduces, lifts, and reshapes the breast into a more aesthetic shape and size more in proportion with their body. Patients have immediate relief of their symptoms after their surgery. In some instances, patients come to Dr. Schwartz with poor results after breast reduction surgery performed elsewhere and request a revision to improve their final appearance.
Who is a Good Candidate?
Breast reduction surgery is intended for women with overly large breasts. This condition, medically known as macromastia, can cause a number of physical problems, including back and neck pain, skin irritation, and bra strap indentations. It can also make it difficult to participate in physical activities. If you are a woman who is considering breast reduction surgery, you should be in good overall health and have realistic expectations about the results of the surgery. You should also have breasts that are fully developed. The surgery is not recommended for women who are pregnant or breastfeeding. Insurance companies often cover this surgery and require that a certain minimum amount of tissue be removed from each breast based on your height and weight.
Consultation and Procedure
During your consultation, Dr. Schwartz will take several pictures and send these along with a letter to your insurance company to obtain precertification. He will also explain and set the right expectations for your surgery outcome. Thanks to Dr. Schwartz's access to a private Outpatient Surgery Center, his patients can expect to have their breast reduction surgery scheduled within a few weeks.
Breast reduction surgery is performed under general anesthesia. Thanks to Dr. Schwartz's surgical expertise and performing over 200 breast reductions every year, you can expect your surgery to take between one and a half and two hours, depending on breast size. Dr. Schwartz makes an incision around the areola and down the middle of the breast. He then removes excess fat, glandular tissue, and skin from the breasts. The nipple and areola are repositioned on the new contour of the breast. When your breast reduction procedure is complete, dressings or bandages will be applied to the incisions, and you will be put in a supportive sports bra.
Recovery and Results
There are no drains routinely placed after breast reduction and patients are discharged home the same day.
Healing time varies but after a breast reduction surgery and you may feel sore for 2 to 3 weeks. You also may feel pulling or stretching in your breast area. Although you may need pain medicine for a week or two, you can expect to feel better and stronger each day.
For several weeks, you may get tired easily or have less energy than usual. You also may have the feeling that fluid is moving in your breasts. This feeling is normal and will go away over time.
Your new breasts may feel firmer and look rounder. Breast reduction may change the normal feeling in your breast. But in time, most feelings return to normal.
Keep in mind that it may take time to get used to your new breasts. You will have swelling at first. But the breasts will soften and develop better shape over time.
You are likely to feel well enough to return to work after 2 to 4 weeks, based on your progress. You can usually resume normal physical activities in this time frame as well.
You should expect some scarring following breast reduction surgery; however, these scars will gradually fade over time.
SCHEDULE YOUR CONSULTATION TODAY!
Dr. Schwartz's extensive training at renowned schools and medical facilities in the US and around the world together with his 13 years of experience, publishing his innovative techniques in the field of breast cancer and reconstruction in prestigious medical journals Internationally, and over 6,000 surgeries performed, make him the only breast surgeon in Gwinnett County and one of only a handful in the US to be an expert in the field of Oncoplastic Surgery (this approach integrates an aggressive oncological resection with immediate reconstruction using plastic surgery principles to avoid deformities and sometimes even improve the appearance of the breast).